Marina Ventures' goal is to produce the world's finest marinas, with emphasis on combining strength, durability and beauty into every design. Our marina systems are specifically designed and engineered to meet the requirements of the individual location and the intended use. We use the most rigorous and exacting engineering standards and practices throughout the planning, design, manufacturing and installation. Our components are manufactured from raw materials in accordance with our stringent specifications. Every aspect of a Marina Ventures system is engineered and reviewed using computer-aided structural analysis to determine proper structural connections.
Our docking systems have been proven by surviving natures toughest tests; full exposure to Hurricanes Alica (100+mph wind & 3' seas), Gloria (100+mph winds & 6' seas), Hugo (125+mph winds & 3' seas), Bertha (100+mph winds & 3' seas), Fran (100+mph winds & 4' seas), while these marinas were filled with vessels; typhoons in the far East; extraordinary temperatures, humidity, and salinity, in the Middle East; earthquakes in Japan; and often extreme continuous wave action from the Northeasterlies on the Atlantic coast. The floating pier system's ability to survive these conditions has resulted in Marina Ventures' docks being specified for projects around the world by the the world's leading engineering firms.
Let us put our experience to work for you if you are planning to build a marina, wave attenuator, handicap fishing pier, courtesy launch ramp, fuel dock, mega-yacht marina, or virtually any custom design. We will assist you with the design and work with you to develop a design plan and system that will best fit your needs.
ENGINEERING & AESTHETICS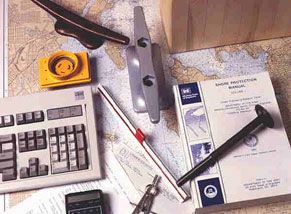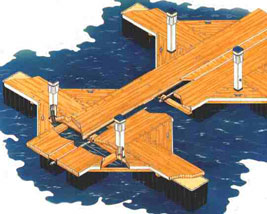 The challenge of most marina projects is to maximize the site's land and water usage. The Marina Ventures staff has more than 35 years of experience in designing thousands of marina projects around the world, and can work with you to provide the most efficient usage of space, that integrates the water amenities with the land requirements. We can assist you from concept to completion.
A successful floating docks system must solve the problem of providing STABLE docks to walk on and FLEXIBLE docks to withstand the tests of nature. Our concept is to use solid 5" thick glue-laminated cedar beams as both the primary structural element and as the deck of the system. This creates a system that is extremely rigid in the horizontal plane, with tremendous strength and resistance to lateral vessel impacts, and wave and wind loads. At the same time, the laminated wood beams will flex in the vertical dimension with the wave actions of the water. This allows the piers to ride over large waves without experiencing material fatigue or damage resulting from concentrated stress. The system, therefore, can be safely anchored with a minimum number of piles to withstand hurricane wind and wave forces without failure.
FLEXIBILITY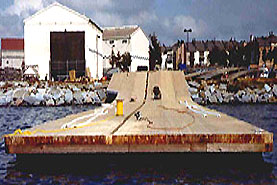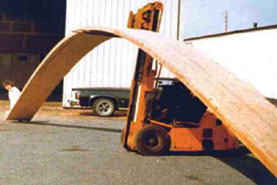 Note the flexible nature of the glue-lam beam.

STABILITY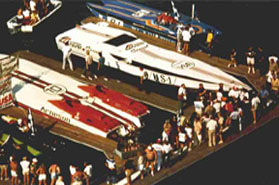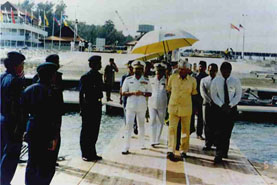 Our docks will be stable whether for use during boat shows, or for entertaining heads of state.